The floor surface area comprised of approximately 1,500m2 factory area which required complete resurfacing and non-staining finish throughout.
Specifying the epoxy screed floor
The Client required hard-wearing, non-staining, and easy to clean flooring solution. Having previously been let down by another contractor and their specification, they were looking for a different flooring solution which would closely match their requirements.
The floor was subject to heavy machinery and forklift traffic on daily basis. In addition, it came into contact with grease and oils from the packaging machinery, as well as alcohols such as IPA and DNE which are used to clean the machinery. Exposure to organic solvents such as MEK used for batch marking ink posed potential staining threat to the floor finish, too.
After careful consideration of various different systems, Flowstone specified Flowcrete's Flowshield SL – 2 mm self-levelling epoxy screed, to be installed in dry packaging areas. Flowshield SL offers exceptionally hard wearing, easy to clean, impervious and chemically-resistant finish. It can be made anti-slip to match individual client requirements in areas subject to spillages, and also comes with a manufacturer-backed 6 year warranty.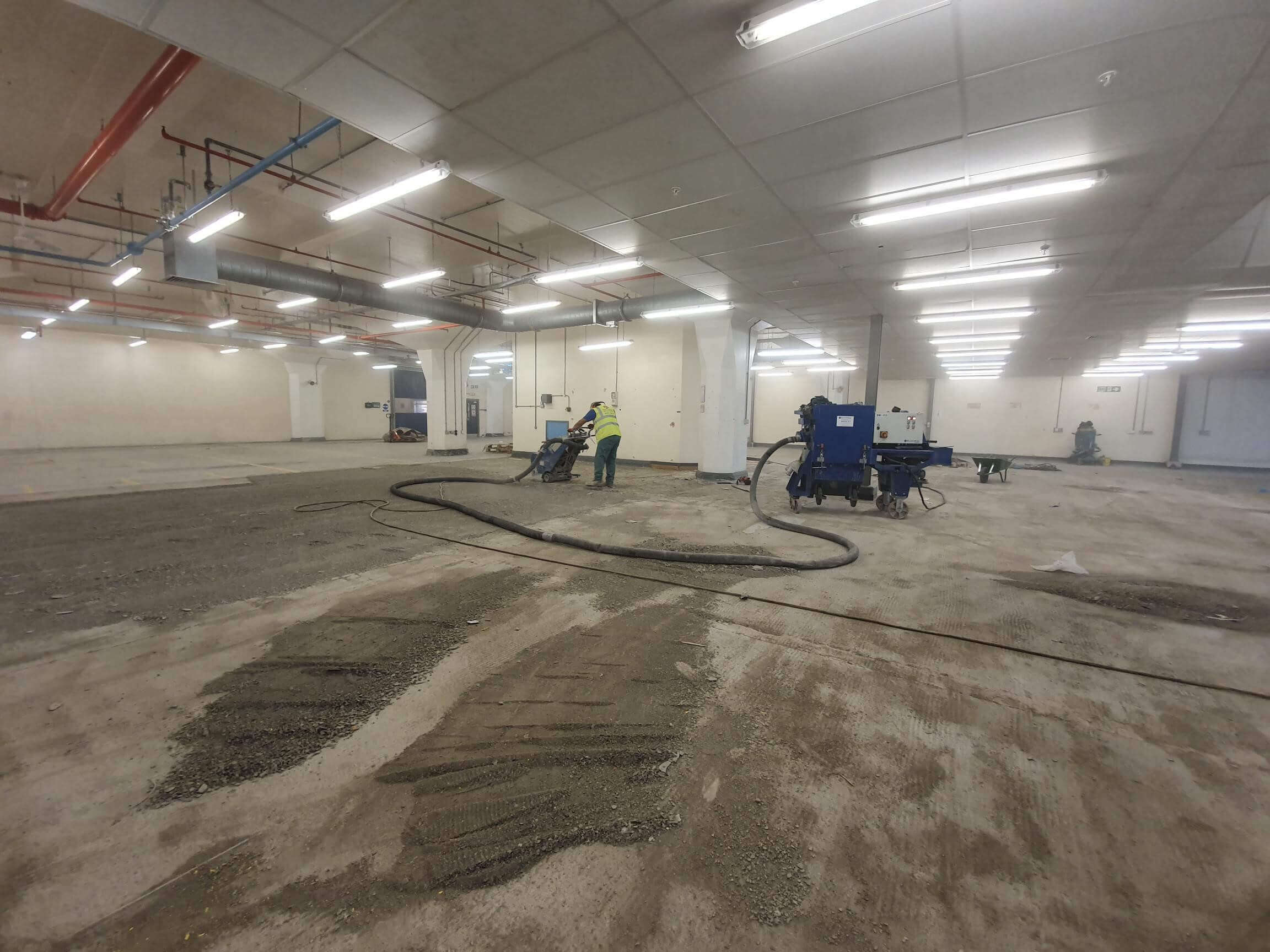 Floor Laying Challenges
The floor consisted of a mixture of old substrates, varying from: steel and painted sand and cement screed, to 259 m2 old quartz screed and 900 m2 vinyl coverings. After floor preparation works were completed and all of the old coatings removed, the floor revealed a number of cracks with evidence of localised surface delamination within the concrete. Moisture meter readings also revealed requirement for DPM primer.
Flowstone proceeded to carry out crack bridging repairs and saw cuts, throughout. Reinforcing scrim was allowed across any significant cracks, however some of the cracks suspected to be live whereby there is a risk of vertical movement under load. In order to minimise the risk of possible lateral in the event of changing moisture levels in the base once an effective damp proof membrane is in place, significant cracks were bonded together using a low viscosity epoxy resin Flowcrete PHS.
Sequence of Works
A number of site visits were carried out from both manufacturer and Flowstone, in order to ensure that all floor preparation and installation works are being carried out to required standard.
All floor areas were thoroughly prepared by vacuum enclosed shot blasting, grinding and scarifying.
Further to completion of extensive repairs (crack banding and joints), Flowstone continued by applying 2 coats of DPM primer to the whole floor area.
Flowshield SL topping in colour Goosewing Grey was applied at 2mm thickness to all areas, providing a seamless, smooth, glossy finish throughout. The floor was complete with 256m matching coving.
The whole project took 5 weeks to complete.